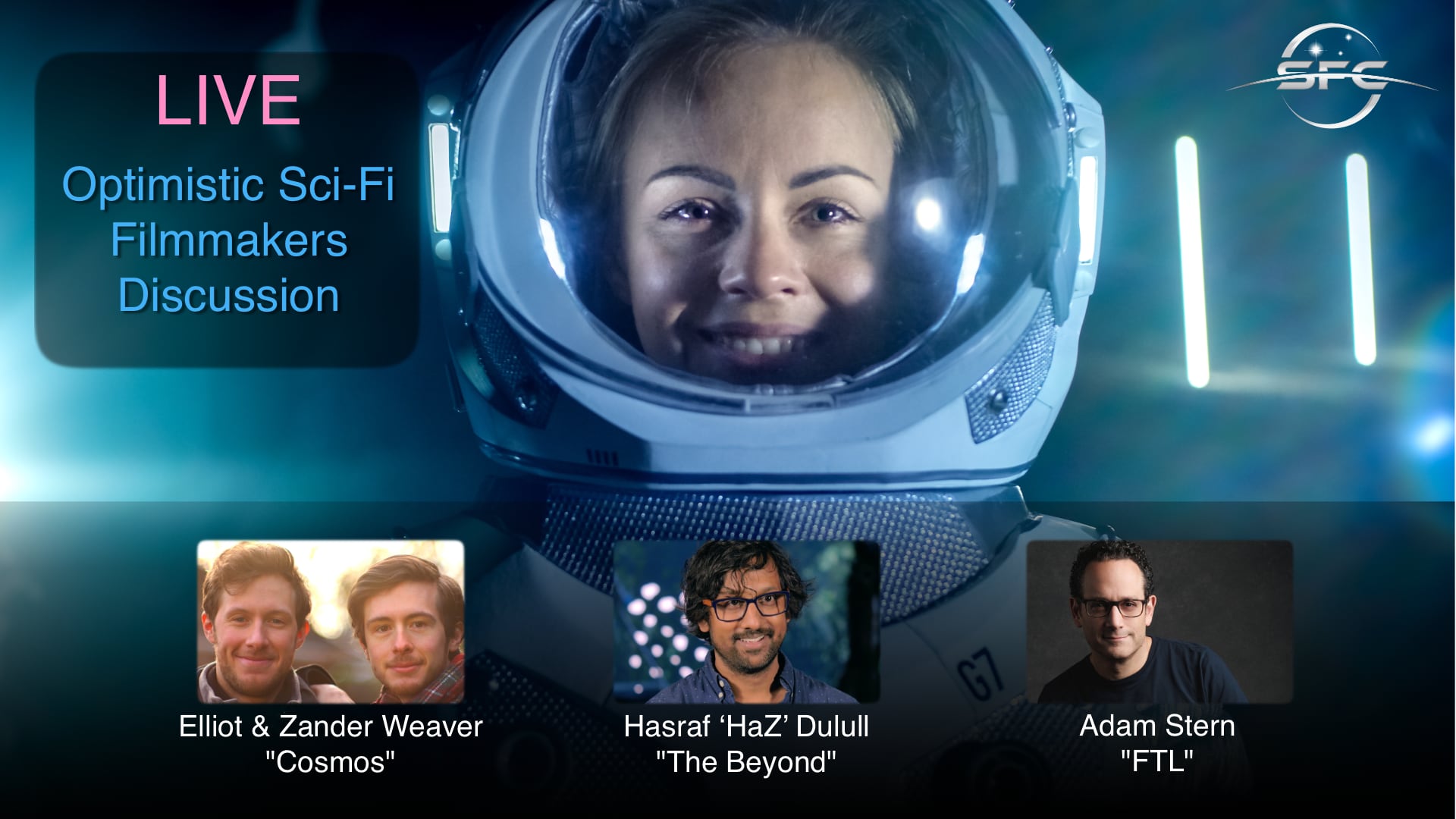 How can indie Space & Optimistic Sci-Fi filmmakers succeed?
Click To Watch Video
Join this live recording for a discussion of how filmmakers can succeed with Optimistic Sci-Fi, or Space Documentary, with wonderful Optimistic Sci-Fi filmmakers Adam Stern (creator of "FTL"), Hasraf 'HaZ' Dulull (creator of "The Beyond"), and Elliot & Zander Weaver (creators of "Cosmos")
The first hour is free to public and can be viewed on youtube live stream. Only members can join the Zoom discussion and ask questions on the second hour. The full discussion and Q&A will be available to members on www.sfcfilms.com
Join us even if you're not a filmmaker and have a one on one Q&A with these awesome filmmakers who are spear heading the Indie Optimistic Sci-Fi revolution.
To be a member please click below:
https://sfcfilms.space/join
Speakers
Adam Stern

Filmmaker

Adam Stern has worked in film and television for over twenty years. He founded Artifex Studios in 1997 which houses close to forty
artists and staff, and has created visual effects for over sixty feature film and television projects. Artifex has won or been nominated for numerous visual effects awards, including an Emmy nomination for its work on FOX's Almost Human.

Adam has since turned his attention to his own projects as a writer/director. The Adept, his first film as writer/director, screened at festivals around the world. The film has received several awards and nominations, including nominations for Best Sci-Fi Short at FilmQuest and Honourable Mention at the Philip K. Dick Science Fiction Film Festival.

Recently, Adam completed his second short film. FTL, an Optimistic Sci-Fi, is the recipient of multiple awards including Best Drama at the Toronto Shorts International Film Festival

Elliot & Zander Weaver

Filmmakers

Elliot & Zander Weaver are UK based directors and producers of independent TV and Film. Through their production company Elliander Pictures, they've produced over 9 hours of factual TV for networks Discovery US & Europe, PBS and Rai. Most recently they directed their debut feature film, COSMOS, a 'no-budget' undertaking acquired by a leading indie distributor, receiving a Hollywood premiere, a limited theatrical run in the US and now available worldwide on VOD/SVOD platforms; recently surpassing 5 million streaming hours.

Hasraf 'HaZ' Dulull

Filmmaker

HaZ started his career in Visual Effects before transitioning over to Directing and producing with his breakout feature film THE BEYOND, the indie sci-fi was released in 2018 and was number 2 in the iTunes Charts before being licensed on Netflix and turning into a profitable movie. His second feature film – 2036 Origin Unknown, starring Katee Sackhoff earned a limited Theatrical release before landing on Netflix. He was then hired by Disney to helm the pilot for action comedy series Fast Layne, where he also served as EP / Creative Consultant on the entire series. HaZ is currently utilising virtual production and realtime CGI with his latest feature film – RIFT, a sci-fi action anime currently in production and rendered entirely in Unreal Engine, scheduled for release later in 2022.

He is represented in Hollywood by The Vendetta Group.
Haz started his journey into Optimistic Sci-Fi with his award winning short film Project Kronos.
Next Event
Date

Oct 02 2021

Time

5:00pm Sydney/Canberra Time

17:00 - 18:30